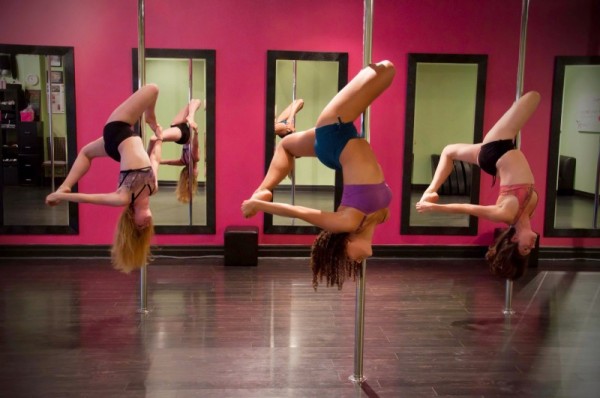 We're Moving!
We are super excited to be moving to 427 St. Laurent Blvd. as of August 31st!
Follow us on Facebook, Instagram and twitter for the latest news and specials!
Cherry Blossom Pole Dancing Studio is Ottawa's largest and hottest pole dancing studio located in the Ottawa East end minutes from downtown.  Enjoy what our studio has to offer with our twelve poles, classy lounge, pole boutique, chic atmosphere and top qualified friendly pole fitness instructors. We truly offer the best most unique pole fitness instruction in the Ottawa area, come see what our studio has to offer!
Cherry Blossom Pole Dancing Studio offers a variety of pole dancing classes. From beginner to advanced classes, pole parties, private lessons, flexibility training, aerial silks, aerial yoga and a variety of sexy workshops you're bound to find the perfect class for you. We also offer basic and unlimited memberships giving you the option of attending a class once a week or as often as you like!
Pole classes are limited to ten students to allow a pole for each student  and no pole sharing to ensure a quality workout. If group classes aren't for you try one of our private classes where you can choose to focus on pole dancing, chair dancing, lap dancing, aerial silks, aerial hoops, aerial yoga or personal training. If you would like to try a class before committing to our 6-class punch card or memberships we also offer drop in classes and pole teasers. We also hold pole practice sessions which allows access to our poles, this is a great way to practice your routine and pole moves and free to all Members!
Pole dancing for fitness is a fabulous total body workout, especially for your upper body and core. Pole dancing is great for weight loss, toning, defining and a fun, sexy workout. Cherry Blossom Pole Dancing Studio welcomes ladies of all ages, shapes, sizes and fitness levels.
Book your pole dancing party for your next special occasion such as: Girl's night out, Bachelorette Party or Birthday Party today!
 Testimonials:
 Simply put, a Cherry Blossom pole dancing lesson is the best workout ever. It is not only fun but it tones your body. Andrea is an amazing teacher with an infectious laugh. Going to the gym will never compare or beat this!
Joelle, 27
Cherry Blossom is truly a place for women to own their body and feel good about themselves. Andrea is an amazing teacher.
Marissa, 30
Pole dancing is a great workout. You don't even realize you're working out because you are having so much fun.
Cynthia,27
I really love Cherry Blossom. It gives me a way to express myself through a different form of dance! Pole dancing is awesome!
kelsey, 17
This is the only workout regime I have ever stuck with! I actually count down the days to my next class. 
Allison,29
Cherry Blossom Studio is a proud member of PFIC Canada. All instructors are PFIC Certified!
Cherry Blossom Studio is a proud member of the PFA