Twerk Classes
Twerk – out with us at Cherry Blossom Studio!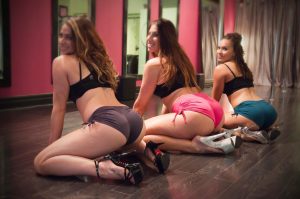 The new hottest fitness craze hitting the nation is Twerk classes! Cherry Blossom Studio was the first studio to bring Twerk classes to the Ottawa Gatineau area.
Make it clap, jiggle and  shake in our fun 1 hour twerkout classes! Tone your abs and butt as you learn different twerk techniques. In each class we start off with a fun warm up, learn new twerk moves and then learn a twerksational routine. Our Twerk classes are for all levels Beginner- Advanced. All of our twerk classes you can drop into, meaning you don't have to sign up for a full week session because we teach a new routine each class. We highly recommend registering online to hold your spot for this class and so that the instructor can see who is in her class.
What to wear to your Twerk Class:
We recommend dressing comfortable avoiding super tight high quality leggings that suck up everything because we want is to jiggle and shake so leggings with "give" are the best! You may also like to wear shorts, make sure they are not super tight as well. You may choose to wear indoor shoes or socks whatever you prefer and it will depend on the routine each class, so we recommend coming prepared.

View our schedule to see when our next Twerkout class is and register online to secure your spot!