All Pole Fitness Ottawa instructors at Cherry Blossom Studio are certified in CPR, First Aid, AED and all adhere by the guidelines of their profession.
Andrea Harper
Owner/ Pole Dancing & Fitness Instructor – English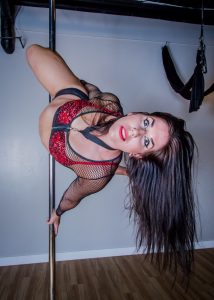 Andrea learned pole dancing while living in New York City and has taken advanced workshops with some of  the industry's top professionals over the years. She has been pole dancing for fitness, for over 10 years and Instructing since 2008. In September 2010 Andrea competed in Miss Pole Dance Canada, The Great White North in 2016, The Toronto Pro Show in 2017 and The Canadian Nationals in 2017. She Placed Third In Low Flow at 2017 PSO Northeast and 1st in 2018 PSO Southern in Atlanta! She also organizes Aerial Cabarets with Cherry Blossom at the Bourbon Room every couple months. Andrea has also judged the Just For Laughs (JFL) Pole Fitness Competition in Montreal, organized the very first Ontario Pole Fitness Championship in 2012 bringing pole fitness competitions to Eastern Canada and judged the Quebec Pole Fitness Championships in 2015.  Andrea is a Certified Personal Trainer Specialist since 2008, Certified Pole Fitness Instructor, Aerial Hoop and Aerial Yoga Instructor with PFIC and is also on the Board of Directors for PFIC Canada. Andrea's Pole Dancing experience and Personal Training experience helped her realize her dream of opening Cherry Blossom Aerial Dance Studio. Andrea has designed Cherry Blossom Studio as a place for women to let their bodies bloom!
Daniela G
Pole Dancing and Fitness Instructor – Speaks English, French, and Italiano
Daniela's original plan to be a mermaid when she grew up never panned out so she settled for studying biology at the university of Ottawa instead. She loves training on the silks, lyra and pole and cannot wait to make you break a sweat. She loves her CB family and always welcomes new additions to the girl gang.
Kristen Magarvey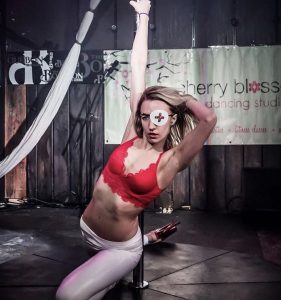 Pole Dancing Instructor
Kristen has been pole dancing since 2014 and is ecstatic to finally teach and share her true passion of pole dance with newcomers and and fellow members at Cherry Blossom. What got her hooked in and never looked back is the strength, drive and sensuality it brought into her life and how supportive the pole community is worldwide. Kristen teaches pole on Sunday Funday's and will be doing bachelorette party requests. Get ready to turn your life and lifestyle upside down!
Corinne Sauve
Pole Dancing Instructor – Speaks French, English
Corinne is all about theatre, feminism, power-lifting, camping and pole dance. She has started training on pole at Cherry Blossom in January 2017 and fell in love with the strain, bruising and glitter. She began working with the Cherry Blossom team as a pole instructor in January 2018 and is now a PFIC Certified Pole Dance Instructor. She's always looking for a new adventure and encourages all students to woman up and bring their strongest. sexiest, feistiest selves to class.
Chelsea McNamara
Aerial Silks, Aerial Hoop and Aerial Hammock Instructor
Chelsea came to Cherry Blossom in September 2015 and has been living her best life ever since. She's never met an apparatus she didn't love, and she's climbed everything but the walls. When she does manage to force her feet back on the ground, chances are she's experimenting in the kitchen or covered in spray paint. Whether you want to become a metal ballerina or a skydiving swan, Chelsea is determined to help make your wildest aerial dreams come true!
Randi Rouge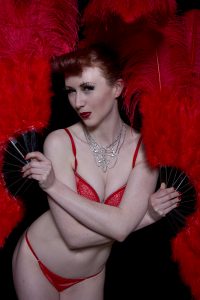 Burlesque & Belly Dance Instructor – Speaks English, French
Known as "the hip-swinging fox with the fiery locks," Randi Rouge is a burlesque instructor, performer and model from Ottawa. She is part of the House of Tease, an Ottawa based burlesque troupe and has a dance background in jazz, ballet, musical theatre, belly dance and more. Randi has performed in both the Montreal and Ottawa Burlesque Festivals, as well as shows in Toronto and Kingston. She is known for her contagious energy on stage and off!
Sassy Muffin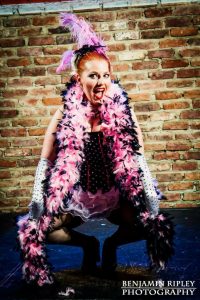 Burlesque Instructor – Speaks English and French
Sassy Muffin has been practicing burlesque in Ottawa since 2009, joining Capital Tease Burlesque in 2012. She's known for her campy take on classic moves, and her potty mouth. As an instructor, Sassy is an advocate for body positivity, teaching burlesque movement for every body. She emphasizes the development of your stage presence and character driven performances. A public servant by day, Sassy also brings her unique experiences to the stage as a a witty emcee dubbed the Naughtiest Lips in the Capital.
Kassandra Reinhardt
Certified Yoga Instructor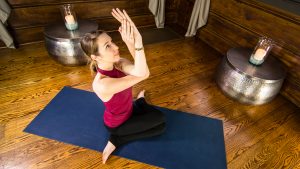 Kassandra is an Ottawa based Yoga Instructor and one of the world's leading online teachers with over 60,000 subscribers and 4 million views on  her youtube channel. She has been teaching for 5 years and is finishing up her 500 hour teacher training certification with international teacher Sianna Sherman. She specialized in Vinyasa Flow and Yin Yoga and is committed to teaching classes that are suitable for students of all experience levels. When you attend her classes you can expect some excellent cueing, creative sequencing and a great playlist too!
Gabrielle Myre
Aerial Exchange Monday – Speaks French and English
Gabby started taking pole dancing in 2017, and quickly fell in love with it. The joy she feels while doing aerial yoga makes her forget about her fear of heights. Going to the studio and hanging upside down is the most satisfying and exciting feeling in the world! She loves the encouragement and the welcoming attitude at the studio, and she's happy to have a place where she can let out her feminine side. She started pole to get in shape, and continued for the self-confidence boost and strength it gave her!
Molly Kenny
Aerial Exchange Tuesday- Speaks English
Molly grew up swinging from the trees of rural Ontario. Using silks has been a real treat for her (and her hands). She has had every job that Barbie has had, but please don't quiz her on electrical engineering she is very shy. Quiz away on the time she was an astronaut/crossing guard! She loves talking about that fun combo. Safe road crossing is important in outer space too! One day she hopes to be as stretchy as Gumbo.
Rae-Ann
Aerial Exchange Wednesday- Speaks English, French
Rae-Ann moved here from the west coast. She came to us to try out aerial silks and discovered the aerial hammock, She immediately fell in love! She has never looked back and is now working on teaching Aerial Yoga.
Zurabi Valesquez
Aerial Exchange Sunday – Speaks English, Spanish
Zurabi studied Art History specialized in Mesoamerican Art. She has been influenced by dance and music since she was a kid and competed in dance tournaments. She has a background in Flamenco, Tango, Ballet, Cumbia and Mexican Folkloric dance. She has performed for Cherry Blossom Events on Aerial Silks and has recently moved to another discipline that is Lyra Cerceau. She is proud of her Cherry girl gang that supports her.