All Pole Fitness Ottawa instructors at Cherry Blossom Studio are certified in CPR, First Aid, AED and all adhere by the guidelines of their profession.
Andrea Harper
Owner/ Pole Dancing & Fitness Instructor – English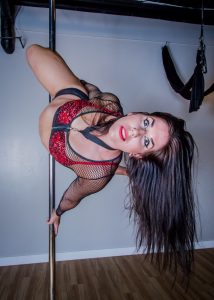 Andrea learned pole dancing while living in New York City and has taken advanced workshops with some of  the industry's top professionals over the years. She has been pole dancing for fitness, for over 10 years and Instructing since 2008. In September 2010 Andrea competed in Miss Pole Dance Canada, The Great White North in 2016, The Toronto Pro Show in 2017 and The Canadian Nationals in 2017. She also organizes Aerial Cabarets with Cherry Blossom at the Bourbon Room every couple months. Andrea has also judged the Just For Laughs (JFL) Pole Fitness Competition in Montreal, organized the very first Ontario Pole Fitness Championship in 2012 bringing pole fitness competitions to Eastern Canada and judged the Quebec Pole Fitness Championships in 2015.  Andrea is a Certified Personal Trainer Specialist since 2008, Certified Pole Fitness Instructor, Aerial Hoop and Aerial Yoga Instructor with PFIC and is also on the Board of Directors for PFIC Canada. Andrea's Pole Dancing experience and Personal Training experience helped her realize her dream of opening Cherry Blossom Aerial Dance Studio. Andrea has designed Cherry Blossom Studio as a place for women to let their bodies bloom!
Julie Auclair
Studio Manager – French and English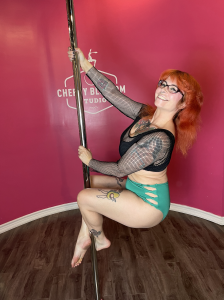 Julie started her journey at CB back in 2018, when she just arrived in Ottawa. She fell in love with the studio and the positive vibes that came with training pole. Usually, she is a self-declared couch potato, but CB has changed her life for the better and now the studio is her favorite place to be! Even so, when a manager position opened in 2021, she jumped on the occasion to make the studio her second home! Julie is here to answer all your questions and wants to make your visits to CB the highlight of your day!

Rio Beatty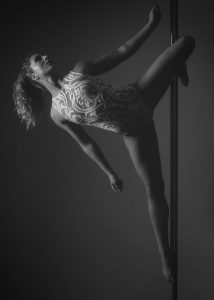 Aerial and Pole Dance Instructor – English/ French
Rio is a multi-year winning professional entertainer and aerialist. With 8 years of stage experience across Canada, she is proud to call Cherry Blossom her home – where her love for aerial artistry first blossomed.
As an instructor, Rio is passionate about creating a positive, empowering, and safe environment for every student she works with. Rio loves welcoming new students into the pole and aerial world at the beginner levels, and coaching experienced students to achieve (and surpass!) their goals.
Daniela G
Pole Dancing and Fitness Instructor – Speaks English, French, and Italiano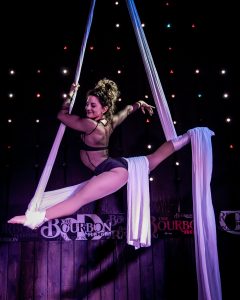 Daniela has been teaching at CB for five years and has loved every minute of it. She is passionate about helping our clients grow and appreciate their bodies for what they can do. Daniela teaches a variety of classes and would love to help you get in shape and conquer your goals, whatever they may be. Joining CB changed Dani's life for the better and she hopes that by joining the family, it will change yours too.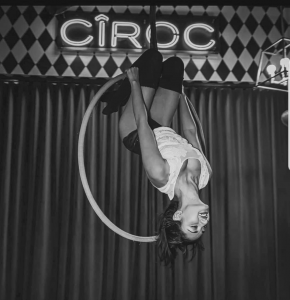 Bianca Bhatnagar
Pole and Aerial Instructor – Speaks English
Bianca has been working in the entertainment industry for over 7 years and Cherry Blossom has by far been her most memorable experience! She currently teaches pole but has love for every apparatus. She enjoys how each one provides a different challenge while improving her body and mental health at the same time. The CB family has helped her creativity flourish and she's happy to have found her second home here at the studio.
Emma Richter
Pole Dance Instructor – Speaks French and English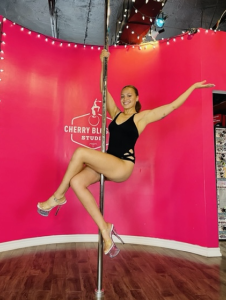 Emma started taking aerial lessons at Cherry Blossom in December 2021, and quickly developed a deep love for aerial arts and for the inclusive and accepting environment at the studio. She loves to be active and enjoys practicing yoga, skiing, swimming and weightlifting in her free time. Emma volunteers her time to work in advocacy for survivors of gender-based violence and is passionate about inclusivity, accessibility, and body autonomy. Emma finds that Cherry Blossom is a fun and friendly environment that shares her values, and she is always happy to be around the CB family.
Erika Bryson
Pole and Aerial Dance Instructor – Speaks English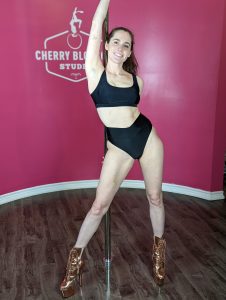 Erika fell in love with pole and aerial hoop while looking for an outlet that was both creative and physical. She continues to grow her skills and confidence in the welcoming environment at CB. Erika has been leading movement classes since 2015 and is thrilled to now be teaching at CB. She strives to create an encouraging and fun atmosphere for all of her students.
Émilie "Frenchy" Paquette 
Aerial Dance Instructor – Speaks French/English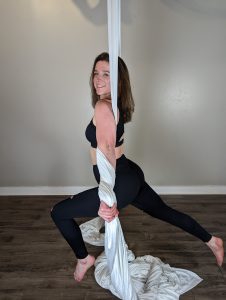 Émilie joined the CB community in 2017 and has been hooked since day 1!  What started as a trial of a unique form of conditioning quickly became a regular self-care practice that has allowed her to break out of her shell and improve her life; physically and mentally.  Her passion for the silks apparatus has inspired her to share the wealth of the experience with CB members of all levels.  Her regular practice on all apparatuses fosters an ever-growing repertoire of tricks – she's BEYOND excited to assist you in achieving your goals.  Émilie invites you to join the CB family and to discover just how strong, graceful, and beautiful you are!