Make your Bachelorette Party unforgettable at Cherry Blossom Studio
Bachelorette Pole Parties and Lap dancing to unleash the inner vixen in you!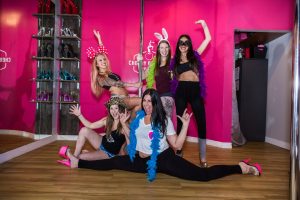 Celebrate in your Bachelorette Party in style at our chic studio 5 minutes from downtown where you can unleash yourselves as you learn a fun dance with lots of laughs with your closest girlfriends!
Our studio boasts floor to ceiling mirrors, 9 poles, aerial hammocks, silks and a front bar perfect for serving up bachelorette cake or treats pre or post party.
We can customize your Bachelorette Party by combining dance styles any with a wide array of music, lights and props such as boas, hats and so on.
Choose from Aerial Silks, Pole Dancing, Twerk, Lap dancing, Burlesque, Chair Dance, Aerial Silks or Aerial Yoga. Combine two styles depending on how many people will be attending your party.
For more information on price and booking visit our Pole Party page.
11 reasons to choose Cherry Blossom Studio to make your Bachelorette Party:
1. Upscale chic studio with floor to ceiling mirror and 9 poles
2. Classy boutique lounge
3. Fun props such as; boas, funny hats, masks etc. to use at your party.
4. Choice of special party add-ons
5. All of our instructors are certified, so you are in good hands.
6.  Large collection of music to choose from or bring your own cd.
7. Convenient location. 5 minutes from downtown making it accessible to continue your party.
8. Invite as many guests as you like at no extra charge!
9. Special prizes for guest of honour, best dancer and best dancer runner up.
10. Party all the time! We are available for pole party bookings Friday, Saturday and Sunday and before and after our regular classes during the week!
11. We now offer a variety of parties not just pole!
Contact us to book your special Pole Party or Lap Dancing Party today! info@cherryblossomstudio.ca or 613-741-4200