Aerial Hoop Workshop
Learn basic poses, transitions and conditioning in our Aerial Hoop Workshop
With Dominique Seguin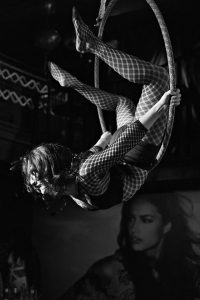 Learn the basic foundations and safety of aerial hoop in this 90 minute workshop. Build strength and increase flexibility while working under and inside the aerial hoop also known as the Lyra. Basic grips, lifts, poses and combos will be taught in the fun aerial hoop
workshop
.
Aerials are the new hype in town, come learn aerial hoop from our certified aerialist instructors with safety and performance background that will inspire you to join the circus at Cherry Blossom Studio.
Dress code: Please wear tight, long sleeve shirt and dress in layers with shorts and sweatshirt on top. This will create padding so the hoop won't dig in as much.
Saturday, May 29 12-1:30pm
$40 + HST
All workshops are final sale, no refunds no exceptions. All prices are subject to HST.