Fitness Classes Ottawa
Fitness classes for all levels designed to keep you in top condition. Try our 6-week intro special and get a 6-weeks Pole or Aerial class and unlimited fitness classes for best results!. Compliment your Pole, Lyra or Aerial Silks with our dance fitness classes!
Flexibility Training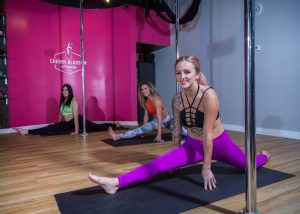 This class is for everyone and anyone who wants to increase their flexibility and balance for the pole and in general. This class will give you the tools and training to become more flexible. We will do a variety of stretches static, dynamic and partner stretching. You will also be given some great stretches that you can do at home on a regular basis for best results.
*We recommend that you dress in layers to stay warm during class, leg warmers can also come in handy to slide out on the floor and keep your feet warm. It is recommended that you bring your own yoga mat and blocks to flexibility class.
Twerkout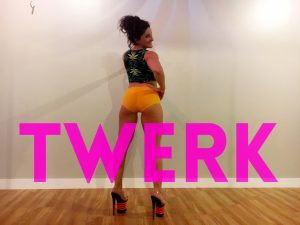 Make it clap, jiggle and  shake in this fun 1 hour twerkout class! Tone your abs and butt as you learn different twerk techniques. In each class we start off with a fun warm up, learn new twerk moves and then learn a twerksational routine. This class welcomes all levels beginner to advanced. Heels are optional and Knee Pads are a must! Knee pads are available for rental or purchase in our boutique. Please bring indoor sneakers. 
Flexibility & Conditioning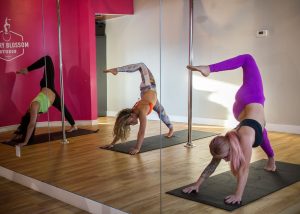 Increase your strength, tone, define and gain flexibility in this calorie burning and strength building class. Get stronger for Aerials by increasing your upper body and core strength. No experience necessary all fitness levels welcome.
Chair Dance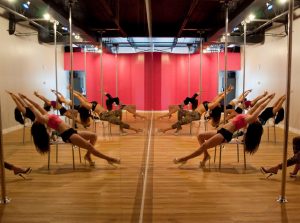 Learn a hot new chair routine each class in this sultry showgirl styled class. Each class will start off with a warm up and then you will learn new moves and choreography to a new routine each class. Feel sexy, confident and fabulous in this one hour class. No experience necessary all levels welcome.
Belly Dancing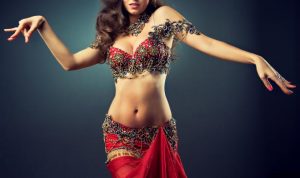 In this fun beginner level class you will learn the sexy basics of belly dance. Practice movement variations, transtions and combinations. No experience needed, all levels welcome. Bring comforable clothes to move in. A few coin belts are available to lend but feel free to bring one if you have it!
Polefit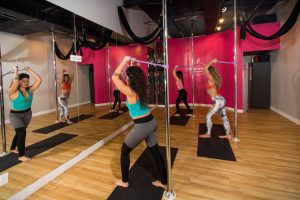 Get ready to sweat in this 1 hour total body intense conditioning class! In this class we will take you through a series of exercises designed to build strength, tone and tighten using your body weight, the pole and other unique gym tools. No pole dance experience is required. All levels welcome.
Floor Play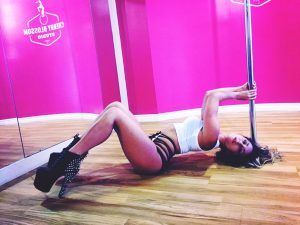 Learn how to work the floor and move seamlessly around in this fun floor work class. Learn basic movements such as the crawl, various rolls, floor flexibility and conditioning moves along with leg work such as heel drops, heel clacks and twerk. Expect to start off with some conditioning and move into different drills and short routines. This class welcomes all levels beginner to advanced. Heels are optional and Knee Pads are a must! Knee pads are available for rental or purchase in our boutique.
Booty Lift
Perk up your booty and tighten your abs in this fun 1 hour circuit training class. Increase your heart weight and drop it low with body weight exercises, drills and our repitoire of booty lifting exercises.