Aerial Silks
Aerial Silks will strengthen and tone, all while having a fun workout!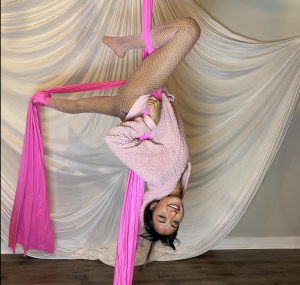 Aerial Silks (Aerial Fabric, Tissu, Aerial Tissue, Aerial Ribbons) offers you a graceful way to express yourself as you climb and wrap your body in the fabric, creating elegant lines. Come experiment as you leave the ground and challenge your body and mind to move like never before.
Learn aerial silks from our certified PFIC Canada certified instructors. Beginner- advanced classes offered in a 6-week format. Want to try it out first before registering? Start off with an aerial silks 45 min. teaser first!
Aerial Silks Teaser
This 45 minute introduction to aerial silks will teach you the basic fundamentals of this beautiful aerial apparatus. Learn basic climbs, alignment, foot locks and poses as you get acquainted to the silks.
Please wear form fitting clothes such as long leggings & T-shirt or long sleeve tops avoiding zippers or anything that can snag the fabric. Please do not apply lotion or oils to your skin before and remove jewelry before your first class.
Aerial Silks Classes
Aerial Silks 1 (6-weeks)
In this beginner 6-week aerial silks session you will learn the basic climbs, foot locks, proper safety, spotting and posture as well as different poses and transition sequences. Each class will start off with a high energy warm up and flexibility training, then we will spend 45 minutes on the silks. If you have never done silks before we recommend starting with a silks or aerial fusion teaser or you may choose to enrol in the full 6-week session.
Aerial Silks 2: Elemental
Once you've covered the basics of silks, you will continue to increase your strength and flexibility as you learn new climbs and poses. In this class, you will build your stamina by performing elemental locks and holds from the air. We will focus on upper body and core strength-building. Students will begin to unlock more inversion-based skills.
Must have completed Aerial Silks Virgins and received instructor permission to take this class.
Aerial Silks 3: Dynamic
Take your silks skills to new heights! In this class, you will perform dynamic moves and learn stunning new combos as we increase the time spent off the ground. Continue to build your strength and flexibility as you begin to get comfortable with drops and more challenging wraps. This class is perfect for students who want to start performing.
Must have taken Aerial Silks 2: Elemental and received instructor permission to take this class.
Silks Goals
This class is open for all students who have completed a 6-week silks session. In this class achieve your aerial silks climbs, combos and personal silks goals. Just like a private class in a small group setting pick your instructors brain to flourish.
Open Practice
Once you have taken at least 6 classes, have learned safety and helped your instructor set up and take down the silks you will be allowed to attend open practice. There is no instructor at open practice, this is your time to work on moves taught in class. We recommend that you practice with your aerial buddies for safety. Practice times are available 5 times a week on a first come first serve basis. Practice is free for members or available for a small fee to drop in students.