What is Aerial Silks?
Aerial Silks will strengthen and tone all while having a fun workout.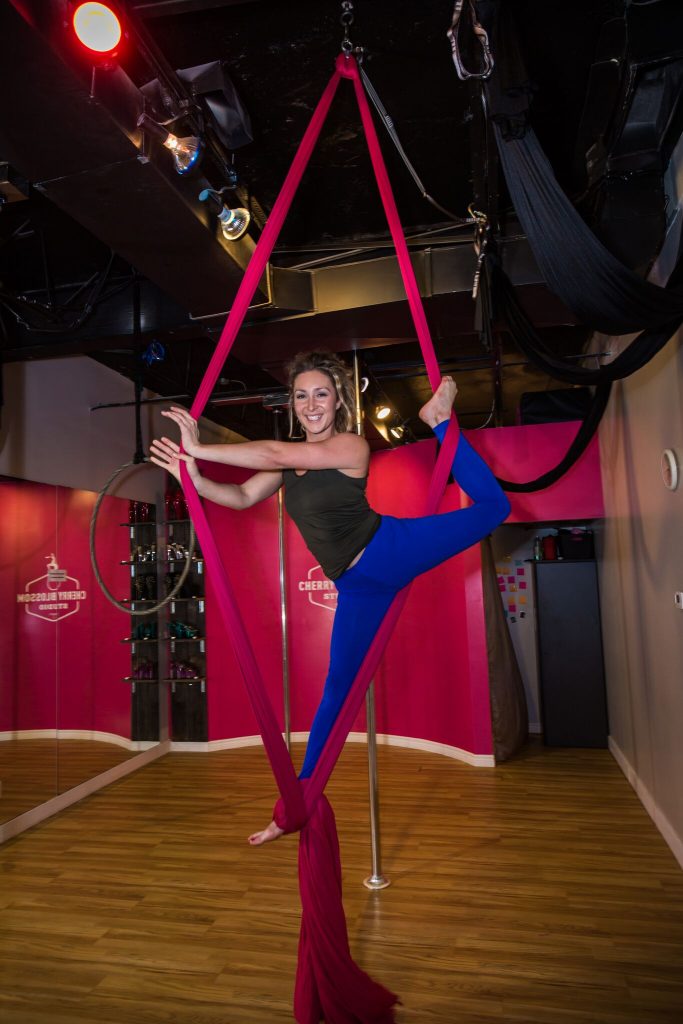 Aerial Silks (Aerial Fabric, Tissu, Aerial Tissue, Aerial Ribbons) offers you a graceful way to express yourself as you climb and wrap your body in the fabric, creating elegant lines. Come experiment as you leave the ground and challenge your body and mind to move like never before.
Learn aerial silks from our certified PFIC Canada certified instructors. Beginner- advanced classes offered in a 6-week format. Want to try it out first before registering? Start off with an aerial silks 45 min. teaser first!
Aerial Silks Teaser
This 45 minute introduction to aerial silks will teach you the basic fundamentals of this beautiful aerial apparatus. Learn basic climbs, alignment, foot locks and poses as you get acquainted to the silks.
Please wear form fitting clothes such as long leggings & T-shirt or long sleeve tops avoiding zippers or anything that can snag the fabric. Please do not apply lotion or oils to your skin before and remove jewelry before your first class.
Beginner Aerial Silks (6-weeks)
In this beginner 6-week aerial silks session you will learn the basic climbs, foot locks, proper safety, spotting and posture as well as different poses and transition sequences. each class will start off with a high energy warm up and flexibility training, then we will spend 45 minutes on the silks. If you have never done silks before we recommend starting with an silks or aerial fusion teaser or you may choose to enroll in the full 6-week session.
Intermediate- Advanced Silks (6-weeks continuous)
Once you have mastered the straddle, basic climbs, hip locks and beginner poses come soar higher as you learn aerial straddles, drops and more difficult poses ultimately testing your strength and flexibility.