All Pole Fitness Ottawa instructors at Cherry Blossom Studio are certified in CPR, First Aid, AED and all adhere by the guidelines of their profession.
Andrea Harper
Owner/ Pole Dancing & Fitness Instructor – English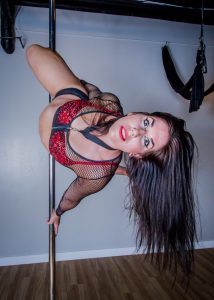 Andrea learned pole dancing while living in New York City and has taken advanced workshops with some of  the industry's top professionals over the years. She has been pole dancing for fitness, for over 10 years and Instructing since 2008. In September 2010 Andrea competed in Miss Pole Dance Canada, The Great White North in 2016, The Toronto Pro Show in 2017 and The Canadian Nationals in 2017. She also organizes Aerial Cabarets with Cherry Blossom at the Bourbon Room every couple months. Andrea has also judged the Just For Laughs (JFL) Pole Fitness Competition in Montreal, organized the very first Ontario Pole Fitness Championship in 2012 bringing pole fitness competitions to Eastern Canada and judged the Quebec Pole Fitness Championships in 2015.  Andrea is a Certified Personal Trainer Specialist since 2008, Certified Nutrition and Wellness Specialist since 2009 with Can-Fit-Pro and is a Certified Pole Fitness Instructor, Aerial Hoop and Aerial Yoga Instructor with PFIC and is also on the Board of Directors for PFIC Canada. Andrea's Pole Dancing experience and Personal Training experience helped her realize her dream of opening Cherry Blossom Aerial Dance Studio. She received her Creative Arts Degree from Ottawa School of Art. Her creative pole performances are evident through her artistic personality and professional background. Andrea has designed Cherry Blossom Studio as a place for women to let their bodies bloom!
Rio Beatty (Bilingual)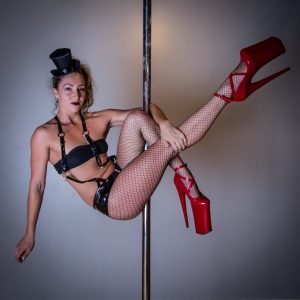 Pole Fitness and Aerial Silks Instructor – Speaks English, French and Spanish
Rio fell in love with pole dancing in 2014 after her first class at Cherry Blossom Studio. She graduated from the University of Ottawa with a major in Women's Studies.Rio grew up playing ringette, rugby and volleyball, and found a familiar comfort in the supportive female environment of her new-found pole family. Rio loves performing and has taken the stage for Cherry Blossom Showcases, Ottawa's Sexapalooza, Giovanni's Italian week pop-up nightclub, and the Canadian Aerial Championships where she took second place in her division. Rio uses her passion for the stage to motivate and challenge herself to continue improving. She loves incorporating shoes bangs and drops into her high-energy routines. Rio recently received her PFIC Pole Fitness Instructor certification and cannot wait to begin sharing her passion with others.
Randi Rouge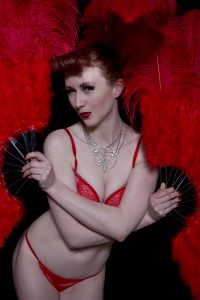 Burlesque & Belly Dance Instructor – Speaks English, French
Known as "the hip-swinging fox with the fiery locks," Randi Rouge is a burlesque instructor, performer and model from Ottawa. She is part of the House of Tease, an Ottawa based burlesque troupe and has a dance background in jazz, ballet, musical theatre, belly dance and more. Randi has performed in both the Montreal and Ottawa Burlesque Festivals, as well as shows in Toronto and Kingston. She is known for her contagious energy on stage and off!
Sassy Muffin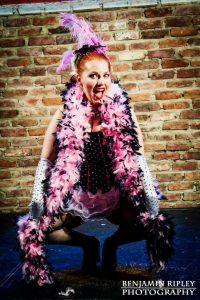 Burlesque Instructor – Speaks English and French
Sassy Muffin has been practicing burlesque in Ottawa since 2009, joining Capital Tease Burlesque in 2012. She's known for her campy take on classic moves, and her potty mouth. As an instructor, Sassy is an advocate for body positivity, teaching burlesque movement for every body. She emphasizes the development of your stage presence and character driven performances. A public servant by day, Sassy also brings her unique experiences to the stage as a a witty emcee dubbed the Naughtiest Lips in the Capital.
Daniela G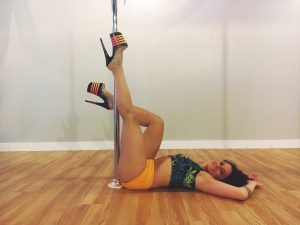 Pole Dancing and Fitness Instructor – Speaks English, French, and Italiano
Daniela's original plan to be a mermaid when she grew up never panned out so she settled for studying biology at the university of Ottawa instead. 
She loves training on the silks, lyra and pole and cannot wait to make you break a sweat. She loves her CB family and always welcomes new additions to the girl gang. 
Kassandra Reinhardt
Certified Yoga Instructor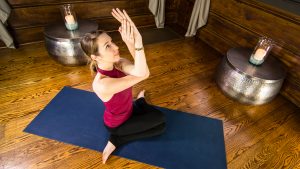 Kassandra is an Ottawa based Yoga Instructor and one of the world's leading online teachers with over 60,000 subscribers and 4 million views on  her youtube channel. She has been teaching for 5 years and is finishing up her 500 hour teacher training certification with international teacher Sianna Sherman. She specialized in Vinyasa Flow and Yin Yoga and is committed to teaching classes that are suitable for students of all experience levels. When you attend her classes you can expect some excellent cueing, creative sequencing and a great playlist too!
Kaitlyn Shute
Aerial Exchange Monday – English
Kaitlyn is a graduate of Carleton University who started attending classes at Cherry Blossom Studio in the summer of 2015 and she hasn't looked back since! She initially joined with an interest to gain strength and new friendships. Little did she know that she'd be gaining so much more in such a short amount of time. Kaitlyn recently began performing in Cherry Blossom Showcases; she loves the confidence that pole and aerial dance instills in women and thinks it's something every woman should consider trying.
Ali Laviolette
Aerial Exchange Tuesday- Speaks English and French
Alicia started pole dancing in 2016 and immediately fell in love with it. As a horseback rider, the two just fit perfect together. As someone who is shy, Alicia found comfort at Cherry Blossom Studio thanks to all the kind and amazing instructors! Alicia works at the front on Tuesday's and incorporates fitness into her busy work and school schedule!

Cynthia Meghaizel 
Aerial Exchange Wednesday- Speaks English, French, Arabic
Cynthia has a Bachelors of science specializing in Psychology from the University of Ottawa and is going back for a Bachelors in nutrition. She loves to study and learn new things but is always up for a good party too. She started taking Pole dancing classes in Sep 2015 and fell in love with the studio. She does not generally enjoy physical activity but thinks pole dancing is more fun, less intimidating and more satisfying then going to the gym. She loves the social aspect of pole dancing and all the encouragement from instructors and classmates and considers Cherry Blossom her family.
Haley Mae Jones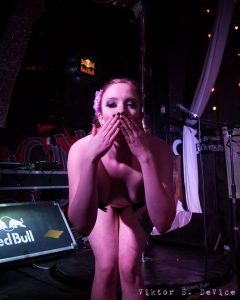 Aerial Exchange Thursday – Speaks English and French
Hayley Mae joined Cherry Blossom in 2016 to embrace being fearless.  She has a background in musical theatre and started performing with Cherry Blossom in 2016.  She is currently branching out to perform in other shows across Ottawa, but found a second family in Cherry Blossom Studio.