All Pole Fitness Ottawa instructors at Cherry Blossom Studio are certified in CPR, First Aid, AED and all adhere by the guidelines of their profession.
Andrea Harper
Owner/ Pole Fitness Instructor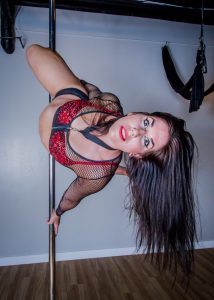 Andrea learned pole dancing while living in New York City and has taken advanced workshops with some of  the industry's top professionals over the years. She has been pole dancing for fitness, for over 10 years and Instructing since 2008. In September 2010 Andrea competed in Miss Pole Dance Canada and since has found enjoyment in performing at Cherry Blossom Showcases and venues around Ottawa, Toronto and Quebec! She has also judged the Just For Laughs (JFL) Pole Fitness Competition in Montreal, organized the very first Ontario Pole Fitness Championship in 2012 bringing pole fitness competitions to Eastern Canada and judged the Quebec Pole Fitness Championships in 2015.  Andrea is a Certified Personal Trainer Specialist since 2008, Certified Nutrition and Wellness Specialist since 2009 with Can-Fit-Pro and is a Certified Pole Fitness Instructor, Aerial Hoop and Aerial Yoga Instructor with PFIC and is also on the Board of Directors for PFIC Canada. Andrea's Pole Dancing experience and Personal Training experience helped her realize her dream of opening Cherry Blossom Aerial Dance Studio. She received her Creative Arts Degree from Ottawa School of Art. Her creative pole performances are evident through her artistic personality and professional background. Andrea has designed Cherry Blossom Studio as a place for women to let their bodies bloom!
Rio Beatty (Bilingual)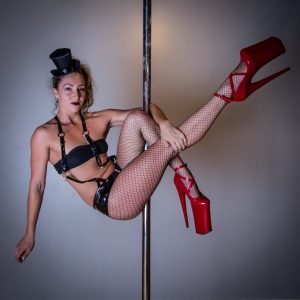 Pole Fitness and Aerial Silks Instructor
Rio fell in love with pole dancing in 2014 after her first class at Cherry Blossom Studio. She graduated from the University of Ottawa with a major in Women's Studies.Rio grew up playing ringette, rugby and volleyball, and found a familiar comfort in the supportive female environment of her new-found pole family. Rio loves performing and has taken the stage for Cherry Blossom Showcases, Ottawa's Sexapalooza, Giovanni's Italian week pop-up nightclub, and the Canadian Aerial Championships where she took second place in her division. Rio uses her passion for the stage to motivate and challenge herself to continue improving. She loves incorporating shoes bangs and drops into her high-energy routines. Rio recently received her PFIC Pole Fitness Instructor certification and cannot wait to begin sharing her passion with others.
Randi Rouge
Burlesque Instructor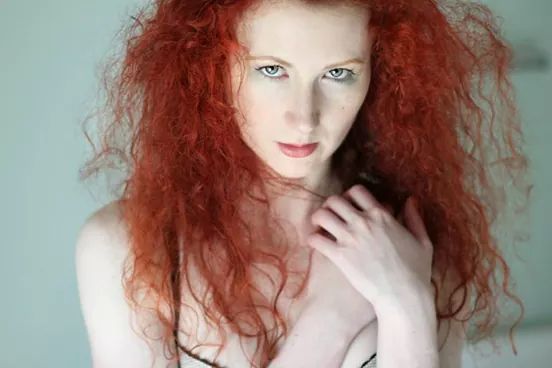 Randi Rouge is a burlesque and PFIC certified pole instructor. She has performed at Nature Nocturne, Sexapalooza and Burlesque Idol. She will be in the Ottawa Burlesque Festival in Sept and you can catch her at the bi-monthly show, An Evening of Sin at the Rainbow Bistro.
Dominique Seguin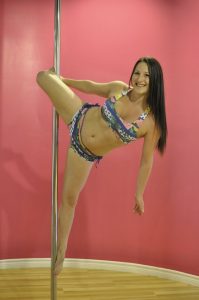 Pole Fitness Instructor
Dominique fell in love with pole dancing in 2014 while attending her first class at Cherry Blossom. She has always been really active, enjoys outdoor activities such as rock climbing, snowboarding, scuba diving and any kind of crazy stuff that involves a good boost of adrenaline! She is a certified PFIC instructor and can't wait to get certified for more. "My pole journey started with the decision to try, so should yours."
Daniela Gambarotta
Pole and Aerials Instructor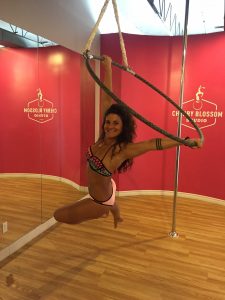 Daniela's original plan to be a mermaid when she grew up never panned out so she settled for studying biology at the university of Ottawa where she graduated from in 2010. She later attended algonquin college from which she graduated as a registered veterinary technician. She currently works part time as an emergency vet tech and is attending the university of Ottawa for nursing…. because adulting is hard and choosing a career path is overrated.
She loves training on the silks, lyra and pole and cannot wait to make you break a sweat. She loves her CB family and always welcomes new additions to the crew. She thinks twerk should be a way of life and it solves all your problems and she is excited to shake her butt with you!
Chelsea McNamara
Aerial Exchange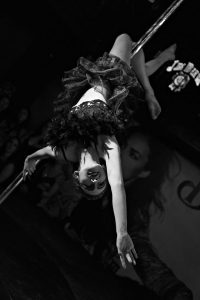 Chelsea studies history and political science at the University of Ottawa and has a background in gymnastics, ballet and lyrical dance.
She started dancing at Cherry Blossom in 2015, looking to gain strength, increase flexibility, foster creativity and basically challenge the laws of gravity.
Chelsea started with pole exclusively but has since embraced other programs offered at Cherry Blossom, such as aerial silks.
She hopes to perform competitively and inspire others. Her future goals include being the youngest PM to hold office while simultaneously instructing on the side!
Zurabi Velazquez
Aerial Exchange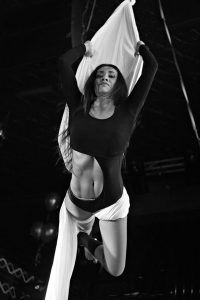 Zurabi studied Art History specialized in Mesoamerican Art. She has been influenced by dance and music since she was a kid. She has a background in Tango, Flamenco and Mexican Folkloric dance. Her hobbies include Surfing and Bodysurfing. After her first class at Cherry Blossom she fell in love with Aerial silks.  The beauty of movement through aerial dance on the silks is a Magical blissful feeling.
Kaitlyn Shute
Aerial Exchange
Kaitlyn is a graduate of Carleton University with a degree in Criminology. She started dancing at Cherry Blossom Studio in the summer of 2015 and hasn't looked back since. She initially joined with an interest to gain strength and new friendships. Little did she know that she'd be gaining so much more in such a short amount of time. Kaitlyn loves the confidence that pole and aerial dance instills in women and thinks it's something every woman should consider trying. Kaitlyn has aspirations of joining the RCMP and becoming a certified pole instructor and competitor.
Cynthia Meghaizel
Aerial Exchange
Cynthia has a Bachelors of science specializing in Psychology from the University of Ottawa and is going back for a Bachelors in nutrition. She loves to study and learn new things but is always up for a good party too. She started taking Pole dancing classes in Sep 2015 and fell in love with the studio. She does not generally enjoy physical activity but thinks pole dancing is more fun, less intimidating and more satisfying then going to the gym. She loves the social aspect of pole dancing and all the encouragement from instructors and classmates and considers Cherry Blossom her family.