All Pole Fitness Ottawa instructors at Cherry Blossom Studio are certified in CPR, First Aid, AED and all adhere by the guidelines of their profession.
Andrea Harper
Owner/ Pole Dancing & Fitness Instructor – English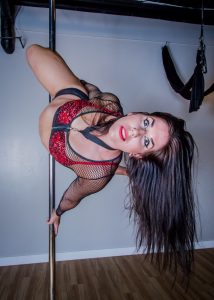 Andrea learned pole dancing while living in New York City and has taken advanced workshops with some of the industry's top professionals over the years. She has been pole dancing for fitness, for over 10 years and Instructing since 2008. In September 2010 Andrea competed in Miss Pole Dance Canada, The Great White North in 2016, The Toronto Pro Show in 2017 and The Canadian Nationals in 2017.  Andrea is a Certified Personal Trainer Specialist since 2008, Certified Pole Fitness Instructor, Aerial Hoop and Aerial Yoga Instructor with PFIC and is also on the Board of Directors for PFIC Canada. Andrea's Pole Dancing experience and Personal Training experience helped her realize her dream of opening Cherry Blossom Aerial Dance Studio. Andrea has designed Cherry Blossom Studio as a place for women to let their bodies bloom!
Julie Auclair
Studio Manager – Twerk & Pole Instructor – French and English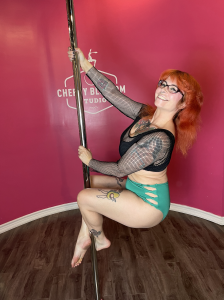 Julie started her journey at CB back in 2018 when she moved to Ottawa. She fell in love with the studio and the positive and empowering energy that comes with training aerials. She had no past dance background, apart from dancing in her bedroom as a teenager, but it has always been an interest of hers and now she is sharing this love with everyone who comes to Cherry Blossom Studio. Manager on a daily basis, she is there to answer all your questions! Julie completed her Pole 1 instructor certification in February 2023, and she is excited to start teaching on a part-time basis. She is our Twerk Queen at CB and Twerk is her favourite class. With a passion for shaking her goodies, Julie also practices burlesque and other genres of dance, constantly melding her personal dance style. It is never too late to start, you are not too old, too big, or too weak. YOU GOT THIS!
Bryana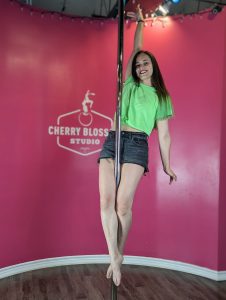 Pole Dance Instructor – English, French, Spanish
Bryana's pole story began as both a bucket list activity, as well as a dynamic way to gain upper body strength and flexibility. She decided to take classes regularly in October 2020 amidst pandemic lockdowns and hasn't looked back since.
As more of an introvert by nature, the aerial arts provide a wonderful creative outlet that will certainly nurture confidence in an inclusive space. With her adoration for music, and core values that include empathy and growth, she can't wait to watch others reach their goals and become their best selves.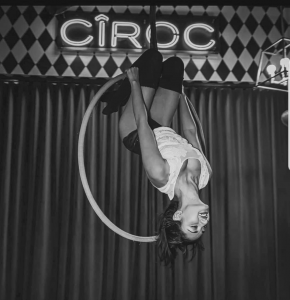 Bianca Bhatnagar
Pole and Aerial Instructor – Speaks English
Bianca has been working in the entertainment industry for over 7 years and Cherry Blossom has by far been her most memorable experience! She currently teaches pole but has love for every apparatus. She enjoys how each one provides a different challenge while improving her body and mental health at the same time. The CB family has helped her creativity flourish and she's happy to have found her second home here at the studio.
Emma Richter
Pole Dance Instructor – Speaks French and English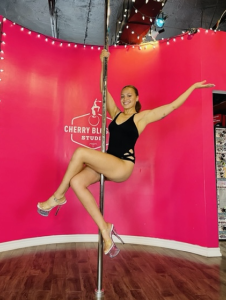 Emma started taking aerial lessons at Cherry Blossom in December 2021, and quickly developed a deep love for aerial arts and for the inclusive and accepting environment at the studio. She loves to be active and enjoys practicing yoga, skiing, swimming and weightlifting in her free time. Emma volunteers her time to work in advocacy for survivors of gender-based violence and is passionate about inclusivity, accessibility, and body autonomy. Emma finds that Cherry Blossom is a fun and friendly environment that shares her values, and she is always happy to be around the CB family.
Alona Ovchynnikova 
Aerial Dance Instructor – Speaks English, Ukrainian, and Russian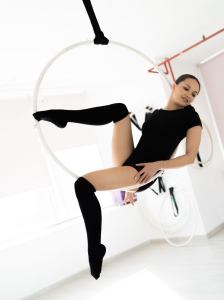 Certified Aerial Hoop and Aerial Silks Instructor with Spin City.
Hello, Aerial Community!
I started my Aerial journey in 2019. I also love yoga and have a Gymnastics background.
Aerial has changed my lifestyle and become a part of my life.
And it will change you! Everything is hard at the beginning. Things only become smoother if you keep going 😊
Enjoy and feel every moment. You can express your feelings when you do Aerial hoop!
Derek (They,Them)
Aerial Dance Instructor – English, French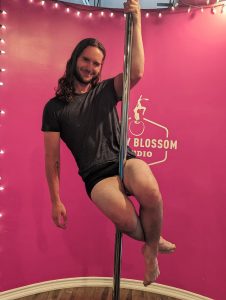 Derek has been taking classes at Cherry Blossom since 2022 and instantly fell in love with each aerial apparatus. For Derek, aerial artistry is both physically and mentally stimulating and provides an exciting creative outlet and a welcoming community. Pole, silk, and hoop dancing is a unique opportunity to step out of your comfort zone and unlock a new level of confidence, and Derek is excited to help new students begin their aerial journey. In their free time, they enjoy reading, spending time with their dog, cooking, and learning to sew.
Pole Dance Instructor – English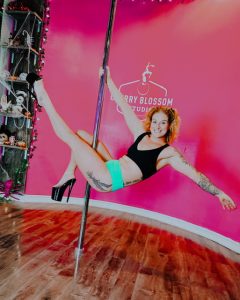 Melanie is a  stay-at-home, married mother of two in her 30's with a 9 and a 12-year-old. She wanted to feel sexy and get out and make new friends and that is how her pole journey began at Cherry Blossom Studio. For the last 15 years, she has been into health and fitness. She has participated in numerous activities, including skiing, snowboarding, pilates, HIIT cardio, barre, yoga, and in 2018 she discovered and stuck with pole dancing. Melanie instantly fell in love with the spin and creating shapes making it an awesome physical workout. In 2019 she had a shoulder injury that took her out of all her activities, she healed and came back in 2022. Melanie has a love for edge work, base work,  pole tricks, erotic style, twerk, and spin-pole. Trying new styles, creating new movements, and getting others excited brings her joy.