All instructors at Cherry Blossom Studio are certified in CPR, First Aid, AED and all adhere by the guidelines of their profession.
Andrea Harper
Owner/Pole Dancing Instructor
Andrea learned pole dancing while living in New York City and has taken advanced workshops with some of  the industry's top professionals such as Jenyne Butterfly, Alethea Austin(US Pole Dance Federation Champion 2010) , Karol Helms (USPDF Miss Sexy 2010), Marlo Fisken, Emil Valentino and Josiah "Bad Azz" Grant. She has been pole dancing for fitness, for over 6 years and Instructing since 2008. In September 2010 Andrea competed in Miss Pole Dance Canada and is one of Canada's top 16 pole dancers! She has also judged the Just For Laughs (JFL) Pole Fitness Competition in Montreal for the prestigious festival. Andrea previously hosted and planned the Ontario Pole Fitness Championship 2012, bringing pole fitness competitions to Eastern Canada by hosting this first annual event.  Andrea is a Certified Personal Trainer Specialist since 2008, Certified Nutrition and Wellness Specialist since 2009 with Can-Fit-Pro and is a Certified Pole Fitness Instructor with PFIC and is also on the Board of Directors for PFIC. Andrea's Pole Dancing experience and Personal Training experience helped her realize her dream of opening Cherry Blossom Pole Dancing Studio. She received her Creative Arts Degree from Ottawa School of Art. Her inspirations for creative pole performances are evident through her artistic personality and professional background. Andrea has designed Cherry Blossom Pole Dancing Studio as a place for women to let their bodies bloom!
Jennifer Renaud
Pole Dancing Instructor
Jennifer is a 30 year old single mother to a wonderful little boy. Jennifer started doing pole fitness at home as a form of exercise as she had no time to go to the gym. She immediately fell in love with this sport and wanted more out of it so she ventured out to find a studio that met all of her needs such as class, style , professionalism and most of all a great class of new friends and family, which she found at Cherry Blossom Pole Studio. Three years in to her pole journey she now has the body and health to strive to become a role model to Pole Virgins. Jen is excited to teach this wonderful sport, connect with people and help them discover the fun of Pole Fitness. Jen also has a background in Figure skating, Ballet,Tap Dance and gymnastics and is currently in school for Holistic Nutrition.
Ciara Beaton
Yogafit Instructor
Ciara fell in love with yoga in 2002 initially as a means of exercise, but over time more for the sense of balance, grace, inner power and harmony it has welcomed into her life. Through her practice, she has developed a new appreciation for what the body is capable of as well as the multitude of health benefits that yoga has to offer. Ciara completed her yoga teacher training under teachers Laurie Howe and Ichih Wang. She is a Registered Yoga Teacher with Yoga Alliance with a Power Yoga background. When she's off her mat, she can be found swan diving into pole fitness, Latin dancing and getting creative in the kitchen.
Ciara is dedicated to creating a fun and encouraging practice for her students to fall in love with. Always teaching from a place of love, compassion and acceptance – she encourages students to be present, listen to their bodies and challenge themselves by letting go of what they think they know in order to allow themselves to create space for something new.
Livia Tais Pellerin
Aerial Silks Instructor
Livia has a varied background ranging from ballet, contemporary, capoeira, samba, aerial silks and bgirling (break dancing).  She began teaching in 1999 after taking a teacher training course in ballet.   Stepping away from ballet to study more contemporary styles, Livia expanded her teaching skills as she developed as a dancer. She later developed the Brazilian Funk class, a fusion of capoeira, samba and afro-brazilian styles which she taught at various studios in Montreal.
Livia has a minor in Psychology and completed a B.F.A in Contemporary Dance to deepen her knowledge of dance and choreography .  Since then, she has performed with several companies including Cirque du Soleil, Solid State, Kondition Pluriel, Wants&Needs,  Insolita and Destins Croisés.  Dance has taken her across Canada, the US, Europe and South America.  In 2007, she had the privilege to perform for the London BSupreme Festival of Women in Hip Hop which showcased artists from across the globe who represented all styles of Hip Hop. Livia has taught dance and capoeira to students of all ages.  In fact, she is currently teaching Hip Hop and break dancing in various schools in the Ottawa-Carleton district with Luv2Gruv.  In addition, she has given workshops to dance companies and  will be working as a rehearsal director and stage manager for the Bboyizm dance company for their upcoming show at the N.A.C in June.
Melissa Landry
Aerial Silks Instructor
Melissa has been dabbling in dance and yoga since 2001 because of her love of movement and as a form of relaxation and physical expression. As a busy mom with a daily desk job, she sought time for herself that would also offer a fun and dynamic way to exercise. She was introduced to aerial silks, and has been training ever since under the guidance of Livia Tais Pellerin at Cherry Blossom. In part, it is the concentration required to do the wraps, drops, twists and dives that drivesMelissa but mainly it is the satisfaction in achieving the unexpected. Aerial silks lead Melissa to certification in aerial yoga and she considers both aerial activities the perfect fusion of expression, strength training and flexibility through the use of one's own body. In her teaching, Melissa wants to share her love of silks and show how they can be used to achieve fitness with your feet off the ground.
Leila McKie
Pole Fitness Instructor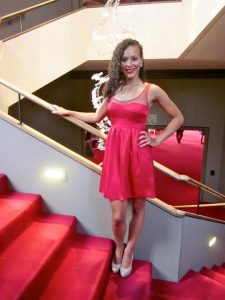 Leila is the newest member to the Cherry Blossom family. She is an exercise enthusiast and enjoys all forms of fitness. Leila grew up playing competitive soccer and taking dance classes and therefore developed an understanding of the importance of health in fitness early on in life. She is always looking for new ways to challenge herself and try new forms of fitness. After years of wanting to break into pole fitness she took her first class at Cherry Blossom last year and instantly fell in love with it!
When she is not working, or working out she loves being in the kitchen creating healthy meals or writing about health and fitness on her blog. Leila is a certified Fitness Instructor Specialist through Canfit Pro and is looking forward to spreading her passion for pole through teaching.
Bambi Von Boom
Burlesque Instructor
Bambi Van Boom has been performing burlesque since 2007. Her dance background includes but is not limited to ballet, jazz, tap, modern, hiphop, flamenco, and pointe. She has been teaching the fine art of burlesque since 2009. She wasn't born a man so she couldn't fulfill her life long dream of being a drag queen, so naturally burlesque was the next best thing!