The Benefits of Aerial Yoga are endless!
Take your Yoga practice off the matt and in the air as you stretch, strengthen and relax in our Aerial Yoga Hammocks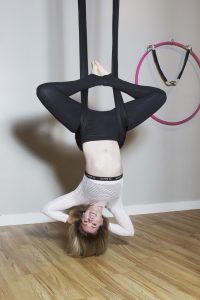 Rejuvenate, increase your level of fitness and have fun as you defy gravity increase your strength and flexibility in Aerial Yoga class. The dazzling fabric enables a variety of poses to be possible by assisting your body weight to be suspended, held in position and wrapped.
Attire: Please wear a T-shirt, leggings or Capri's, and socks. Please avoid wearing clothing with sharp edges or zippers. Please remove all jewelry before taking this class as a safety precaution as it may snag the fabric. You may also like to bring a towel and water.
We highly recommend drinking water before during and after class to stay properly hydrated to reduce the chances of dizziness, nausea and headaches.
Just some of the benefits of Aerial Yoga:
– Deeper stretching as the fabric supports your body weight
-Improved Balance
-Develop deep core stability
-Increase oxygen flow throughout the body and brain with basic inversions and rotations.
-Increase upper body strength
-Immediate benefit of spinal decompression
-Gravity provides proper alignment to the spine
-Relief of pressure on injured joints such as knees, ankles and wrists
With any form of physical activity, inherent risks can be involved. While no activity intends to be dangerous, there are always a few precautions that need to be addressed.
You should NOT partake in inversions if you have any of the following medical conditions:
-Heart conditions
-Pregnancy
-Previous neck injuries
-High or low blood pressure
-Glaucoma
-Epilepsy
-Eye conditions
-Vertigo, the inversions and compression may make students with vertigo or motion sickness dizzy.
Classes:
Aerial Yoga Intro Class (1hr) $25
Everyone must start off with our Aerial Yoga Intro course. This will introduce you to all the basics of Aerial Yoga as well get you acquainted with this fun apparatus. Register below to secure spot as there are only 7 spots in this class.
Aerial Yoga 6-week Class (1hr) $135
In our 6-week class you will see yourself progress to more difficult transitional movements and poses. Learn a variety of static and dynamic stretches, poses and sequences in this fun 6-week class.
See Schedule for Aerial Yoga