Cherry Blossom Aerial Dance Studio New Members
Planning to come to your first class? Here are some things to know before your first class at Cherry Blossom Aerial Dance Studio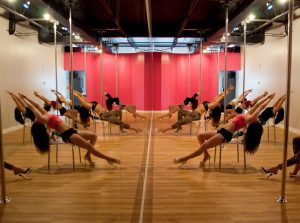 Please make sure to reserve your spot online, we only allow one person per pole and limited spots in our fitness classes to ensure a quality workout at our aerial dance studio. You can set up an account online or contact us.
Please review our Studio Etiquette for the safety and comfort of our students all clients must follow our aerial dance studio etiquette. Each class requires different workout attire, please make sure to check your classes and make sure that you are prepared for your first class at our studio.
Please arrive 15 minutes early to fill out a waiver and health Par-Q and get acquainted with our beautiful studio.
We accept Cash, Debit Card and all major Credit Cards at our studio. You can register for classes online using credit card only.
Still have questions? Contact us at the studio, our friendly staff will answer any other questions that you may have. Our reception hours are Mon-Thurs 4:30-9:30pm.