Bachelorette Party Ideas
Choose the type of party that suits your group the best with our Bachelorette Party Ideas!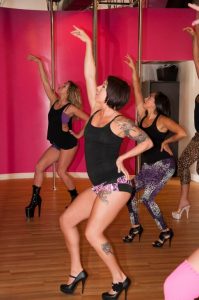 Searching for a Bachelorette party ideas that are unique, fun and sexy?! Well look no further, below are 9 party combinations that we offer.
Although Pole dancing is our most popular choice for bachelorette party ideas we have many choices of different types of parties you can choose at  Cherry Blossom Studio.
Pole Dancing Party
Our most popular party because it's what we have been doing since 2009. Bring the girls in and learn spins, floor work and a short routine. Depending on how many people are in your group you can choose 1 hour 1 1/2 hour or a 2 hour party.
Pole & Twerk Party
The hottest new sexy workout is twerk! So why not mix it in with your pole dancing party and learn a fun pole and twerk routine as you pop, shake and spin around on poles!
Pole & Chair Dancing Party
Want something to take home? Everyone has a chair at home, so add chair dancing into your pole dancing party and never look at a chair the same way!
Pole & Lap Dancing Party
Learn to give a hot lap dance with a lap dancing party! Lap dancing can also include a sultry striptease which is fun for guests to bring home to their lovers.
Burlesque Party
Shimmy and shake with a stocking peel and boas in this fun dancy style bachelorette party. You will learn a fun routine with one of our bombshell instructors!
Chair Dance & Striptease Party
Learn the art of the striptease, as you strip off layers in this sexy choice for bachelorette party ideas.
Aerial Silks & Aerial Hoop Party
Looking for something more athletic and circus style ? Then try aerials for your bachelorette party. Learn basic climbs, lifts and poses with these beautiful apparatuses.
Aerial Silks Party
Choose just an aerial silks party as we get you climbing, foot locking and stretching. Soar through the air on our dazzling pink fabric silks!
Aerial Yoga Party
Looking for a more relaxing type of party? Try aerial yoga as the big day approaches to de-stress, stretch and utilize the hammock to make gorgeous poses as you defy gravity!
Visit our Pole Parties page for prices & booking details. We host the best Bachelorette parties in Ottawa! Book today!