Ottawa Aerial Silks
Defying gravity while building strength and flexibility with Ottawa Aerial Silks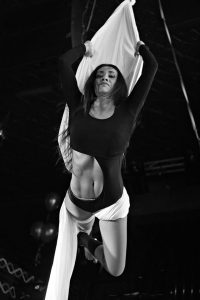 Ottawa Aerial silks, also called tissue, began in the circus, but now aerial silks is available at camps, dance studios and clubs. Aerial silks is a performing art in which there are two long pieces of fabric hanging from the ceiling. Beginners can practice basic moves safely at an aerial studio or with proper rigging and height at home or outside.
To get started on your journey find a qualified teacher. No one should learn aerial silks on their own. It's extremely dangerous, and you could get seriously injured. Aerial Silks requires strength and flexibility, this is why conditioning for Aerial Silks is important. Total body, body weight exercises are great for building up your stabilizing muscles used for lifting yourself up. Chin ups, pushups, handstands should be your goal to smoothy perform on aerial silks.
Try one of Cherry Blossom Studio's 6-week aerial silks courses to properly introduce you with aerial silks. our certified aerial instructs teach you the basic climbs, knots and conditioning in fun group classes.
We also produce Showcase that we have at the Studio or different Venues across Ottawa. We encourage our students to work towards performing so that it makes you work hard and focus on that goal.