Bachelorette Party Ottawa
Throw your Bride-to-Be a Burlesque Bachelorette Party Ottawa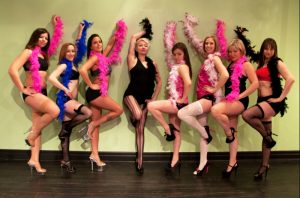 So you want to throw a fun, crazy and wild Bachelorette Party Ottawa? Well we have the best bachelorette parties in Ottawa from pole dancing to burlesque and everything in between. But for the ladies who don't want to pole , I know who wouldn't want to pole dance right?! But it may not be for everyone so we have some suggestions to throw an unforgettable bachelorette party in Ottawa!
Burlesque gradually transformed into striptease from the eighteenth century with more and more elaborate costumes and increased in attraction. It keeps on getting sassier because now you can throw a Burlesque and Pole party!
Learn to shimmy and shake in a Burlesque Bachelorette Party at Cherry Blossom Aerial Dance Studio. Bring your diva's to our Studio for a fun 60, 90 or 120 min. Burlesque Bachelorette Party Ottawa.
What you will learn:
Come dressed to impress with thigh high stockings a bra, a thong (yes a thong) and a button down shirt. We will start you off with a sassy little warm up move onto a sassy routine where we will learn to do a sexy stocking peel. Depending how naughty you want to make your Bachelorette party we will teach you how to strip down a button shirt, remove a bra (over your clothes) and how to peel off a thong. We have some fun peeling tips up our sleeves and we know you will like them!
How to Book:
To book we do require a $100 deposit that will hold your Bachelorette Party spot and will go towards the total of your party. Please give Cherry Blossom Studio a call at 613-741-4200 to book. We host the best Bachelorette Parties in Ottawa!