Pole Dancing Classes
Start Enjoying your Workouts, Feel Sexy and Get Results!
Whether you are looking to lose weight, tone up build confidence, compete or feel sexy pole dancing will give you all of the above!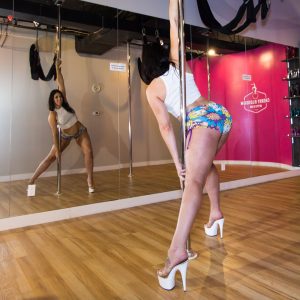 At Cherry Blossom Studio we offer a variety of Pole Fitness, Pole Dancing, Exotic Dance and Fitness classes to flourish you into an all around pole dancer. No fitness or dance experience is necessary although it will help we will teach you all you need to know to get your flow on?
Cherry Blossom Studio is Ottawa's hottest pole studio focussing on helping students achieve their pole goals whether it be to perform in one of our exclusive shows at The Bourbon Room, Compete in Competitions or to simply do it for fun and fitness. Our studio welcomes students of all shapes, sizes and ages.
We always get asked what happens in our pole classes, so here is a break down comparing our classes so you know what to expect?
Below is a breakdown of classes and sessions that we offer:
Pole Teasers
This is the perfect class to start with as it will give you the how to Pole Dance 101 with floor work, transitions and spins in a 45 minute intro class.
Pole Level 1-6
Pole Level 1 & 2 are both 6-week courses starting at level 3 you stay in the level until the instructor gives you the okay to move to the next because after level 3 we teach way more moves, conditioning and combos. Our instructors know our students well and we plan our classes according to our students strengths and weekness' so expect to get creme de la creme treatment and instruction as our instructors tailor certain aspects of our classes just for you!
Exotic Dance
This class is great if you need help working on routines, building them or need help working on your flow. With a new routine each week and two different instructors with different styles you will be learning from the best! Make sure to bring you favourite pole dancing heels as we spin and flow. We recommend taking Pole Level 1 before this class so you know all of the spins and we can focus on the routine and flow.
Our friendly staff and inviting studio hope to see you soon at Cherry Blossom Studio!