Bachelorette Parties
Tips to make your next Bachelorette Party unforgettable!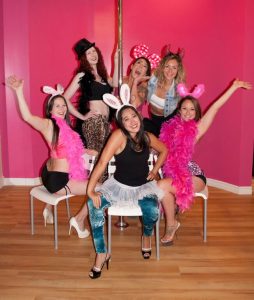 As summer approaches it becomes the busiest time of the year for us at Cherry Blossom Studio with our ever so popular Bachelorette Parties! I wanted to take the time to write this post so if you are planning a bachelorette party this will help make the bride to be's day an unforgettable one!
Over the past 7 years I have done tons of parties and dealt with many ladies and seen what works and what doesn't. So here are some "do's" and "don't" to help with your planning.
So you are most likely going to be celebrating the whole day if you are a really wild a bunch a whole weekend (I approve!). The most popular day for bachelorette parties are Saturday since you can have day activities and evening activities.
DO book your pole, twerk, aerial silks, chair dance, lap dance or burlesque party before you plan to eat or drink. Drinking plus spinning and working out and safety usually don't go well together and if you show up to your party drunk we can't service you and it will ruin your day so no one wants that. I recommend starting off with your pole dancing bachelorette party and then going to eat after and then having drinks! Bring water or virgin fruity cocktails for a refreshing treat!
DON'T wait to book last minute! Bookings fly over the summer to ensure you have the date and time you want make sure to put down your deposit at least 1 month ahead of time to be safe.
DO dresss to impress! Parties are more fun when your dressed for the activity! Dress as crazy as you like, choose a them, bring heals and the required attire for the type of party you choose!
DON'T split the bill in front of the bachelorette. This is important you have all had a lovely party and it's time to pay but none of you have discussed it making the bachelorette feel awkward. Make sure to tell each party goer how much they owe with taxes and tip before. I find it works best if everyone pays one person then they pay at bachelorette parties.
If you plan to go out after and have enough ladies to split on a limo this is always fun and Premier limo gives Cherry Blossom Parties a special discount so book today!
Want to go out and party after?! Here are some of our Bachelorette party approved favourite places to go:
The Bourbon Room : Top 40 music dancing club. 400A Dalhousie St.
Lone Star Texas Grill: Cowgirl style dancing upstairs and yummy fajitas.
Tomo: Asian fusion call to reserve