Fun Fitness Classes in Ottawa
Looking to switch up your fitness regime? Start enjoying your workouts with fun fitness classes Ottawa!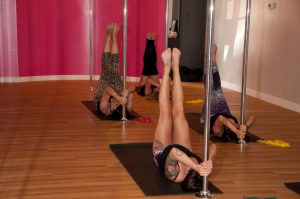 Whether you have been slaving away at the gym on the treadmill for the last couple years or looking for an activity or workout to keep you excited about your workout then check out our fitness classes Ottawa!
Pole fitness classes, aerial silks, lyra, burlesque, twerk, chair dancing polefit, flexibility training and Poleography to name a few are the different types of classes taught at Cherry Blossom Studio. Pole fitness is a great strength training workout that will work your larger muscle groups as well as the stabilizer muscles, the tinier one you didn't know that you had! Each class students are taught new spins , climbs and pole moves making every muscle in your body work as you hold proper form, mainly focusing on your upper body and core strength. Aerial silks will also get all those muscles working as you lift and knot yourself in dazzling aerial ribbons and increasing your flexibility. By trying all of our classes offered you will keep your body guessing as you hit your fitness goals whether it be shedding some weight, increasing muscle tone, increasing flexibility or by improving your core strength and balance.
Get sweating in our twerk out class that will increase your heart beat strengthen your core and work out your legs and glutes as you pop, shake and cyclone your way to your fitness goals while laughing and having fun! Our fitness classes in Ottawa conveniently accessible for bussers and ladies in Ottawa, Gatineau area will leave you wanting more.
Check out our monthly memberships we offer monthly fitness class packages with free studio practice times. Our Silver monthly membership will get you 5 aerial classes a month and our Gold membership will allow you 12 aerial classes and 8 fitness classes a month giving you the best deal with limited class sizes and certified instruction.