Choosing your x-pole for your house
Everything you need to know while choosing your x-pole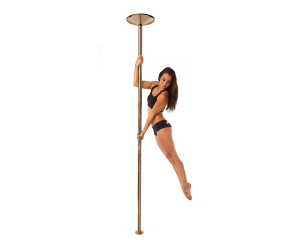 So the day has finally come that you are choosing a x-pole to set up at your house. Here are some tips to keep in mind while choosing the right x-pole for you!
Choosing your x-pole is a personal choice that you should make depending on your poling requirements, personal preference, body chemistry, and pole experience. Get acquainted with different widths of poles at Cherry Blossom Studio to see what pole works best for you!
Choosing a Finish and Diameter
You'll need to think about what kind of FINISH and DIAMETER you want to work with and where you will be setting up your pole.
Here are the finishes that you can choose from:
Silicone – similar to Chinese pole, can wear clothing, max grip. You won't be able to do pole spins but more athletic lifts.
Powder Coated – good for sensitive skin, max grip
Brass – solid polished brass, high grip. Brass is a porous metal which can absorb the oils in your skin. Brass is a softer metal so expect a sticky grip but you will need to polish your brass pole to avoid discolouration.
Titanium Gold – electronically coated, enhanced grip
The Titanium Gold pole is made of steel tubing then finished with Titanium Gold electronic plating to enhance grip. Titanium color does fade with use, however the grip remains the same regardless of some color fading.
Chrome – most popular, competition standard, regular grip
Chrome is the industry standard and most popular purchased finish. It is used in many studios and pole competitions. This pole is made of steel tubing then finished with Chromium plating. The chrome pole is also the most affordable pole finish.
Stainless Steel – weather resistant, best for sensitive skin, regular grip
The Steel pole is made of pure Steel tubing, with a high polish stainless finish. This is a very strong metal, is weather resistant, and is also best for those with sensitive/hypoallergenic skin.
Diameters-
40mm (1.5in) – slimmest, sleekest pole yet, great for small hands
45mm (1.75in) – most popular, great hand grip, industry & competition standard
48mm (1.89 in) – its a 40mm pole and becomes 48mm with silicone coating
50mm (2in) – original pole size
53mm (2.09 in) – its a 45mm pole and becomes 53mm with silicone coating
Choosing your type of x-pole
X-pole offers a static/spin pole called the x-pert or a static pole called the x-pole sport. While choosing your pole type keep in mind where you will be setting up, how much height yo have and what you intend to use it for.
If you don't have a lot of room you may prefer to have a sport pole as the x-pert used for spin may not have enough space. X-pole also offers extensions if you need to increase the height of your pole.
If you have slanted, vaulted, cathedral style ceilings you can use our X-Pert poles. This can be done by purchasing a vaulted ceiling mount. Unfortunately, Sport poles do not have this option. We do not offer vaulted mounts for Sport poles.
You can purchase a pole from Cherry Blossom Studio's online boutique with free shipping right to your front door.