6 Reasons Why You Need Pole Dancing in Your Life!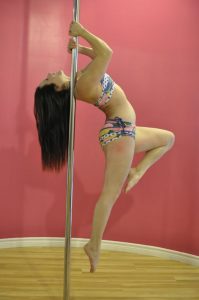 Pole Dancing isn't just a workout, it is so much more! It allows creativity to flow as you freestyle to your favourite jams. It allows you to socially engage with other like minded people in an empowering atmosphere. It also allows you to stay in the best shape of your life!
I have been pole dancing for over 12 years, I taught myself because there were no studios when I started and it was taboo. Over these 12 years it has done so much for me not just pole dancing but the community and wonderful women and men in it!
Here are some of my top reasons as to why I do pole:
The Workout  I am one of those people who goes to the gym then will stop for months then restart. I know the gym is great for me but I don't love it. With pole, I truly enjoy it, I love dancing, music, stretching, creating and it is therapeutic for me. The outside world fades away as I pole dance, my body and brain are transported to another place. Pole dancing promotes a healthy heart and makes muscles limber which reduces injury. Strength and flexibility are gained through repetition and coordination is developed through patterns and balance.
The Pole Family I have met the most wonderful friends through pole dancing events, the studio and common love of pole dancing. When you come to class it feels like a family. As you get those hard tricks, your "pole fam" cheers for you. Pole dance Ottawa studio Cherry Blossom Studio is a fun powerful atmosphere that is very uplifting.
Pole Events There are so many Pole events and expos out there, where you can meet champion pole dancers, get stocked up with all your favourite gear, take workshops and get the opportunity to travel somewhere new. Check out Pole Expo it is our favourite and the perfect excuse to go to Las Vegas with the girls!
Did someone say shoes? Shoessss! As women we love our shoes, and if you enjoy a more exotic dance style you can have all the shoes! At Cherry Blossom we are shoe obsessed ordering shoes monthly from Pleaser. It makes it that much more exciting to train because you have awesome shoes to train in.
Provokes Creativity  Everybody craves some sort of creative expression! Pole dancing allows your creative juices to flow when you create performances, pole combos or sequences. Pole dancing is not only a great form of expression but also connects powerfully to other people, both dancer and audience. Telling a story through your dance is an art form. Just like an artist paints a canvas, when a pole dancer performs at a showcase, event, competition or whatever it may be they are expressing emotions. Decisions are made in seconds, constantly evolving so don't get stuck or dwell on the past, the freedom is limitless!
Builds Confidence Pole dancing makes you brave and forces you out of your comfort zone and into a place beyond yourself. Your inhibitions are lowered and you are able to be someone else when your body is in motion. Your ego is heightened and creates healthy elevated self-esteem. Pole lessons in a studio can allow different personalities to boost each other up in times of uncertainty. So come make friends at Cherry Blossom Studio🙂