Aerial Hoop Classes in Ottawa
Want to learn Aerial Hoop?! We have you covered with Aerial Hoop Classes and Workshops at Cherry Blossom Studio.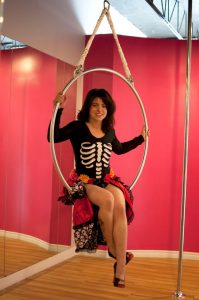 Aerial Arts are now growing with popularity! Aerial Hoop, Aerial Silks, Pole Fitness, Spanish Web and other unique hanging apparatuses are gaining popularity and a great workout that is fun and challenging.
Aerial Hoop is gaining popularity and a fun strength and flexibility activity. There are two types of Aerial Hoops also referred to as Lyra or Cerceau. A One Tab or Single point Aerial Hoop has a rope attached to just the top, where as a double point has two tabs one at nine and three O clock. The double point aerial hoop can also be used for doubles, meaning two people creating poses and sequences at a time in the hoop.
So you want to get started on Aerial Hoop Classes
Cherry Blossom Studio offers an Aerial Fusion class which offers aerial hoop, aerial hammock and aerial silks. This class is great for conditioning and feeling comfortable with each apparatus. Sometimes the Aerial Hoop can be painful for beginners so the aerial hammock is a great way to become comfortable with poses and proper positioning.
Aerial Hoop Workshops
We also have Workshops often with different Instructors from all over Canada and around the world to teach students aerial hoop. Our next Aerial Hoop Workshop will be with Jennifer MacLatchy from Halifax Circus School! Jennifer will be teaching two different Workshops One for beginners- Aerial Building Blocks on Cerceau and one for more intermediate- advanced students-Aerial Flow on Cerceau. Learning from different instructors is good because each instructor has there own style just like pole dancing.
Here is a video of Dominique's performance on Aerial Hoop from our latest Hero's vs Villain's show at the Bourbon Room in Ottawa:
We hope to see you for an Aerial Hoop Class or Workshop soon at Cherry Blossom Studio!