Often I get asked by students on how to get stronger for Pole Fitness to get better faster. Pole fitness requires lots of strength, flexibility and conditioning. So what is the best way to achieve your results faster?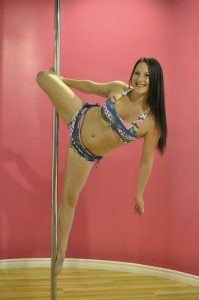 Strength training and increasing your strength at the gym using free weights is great, but what if you don't have a gym pass? Body weight exercises are best for pole fitness since you will be lifting yourself up on the pole and using your stabilizing muscles which you can do at home or at pole practice. This can included push ups, climbing the pole, pole rows (many exercises are introduced in Polefit) and many other exercises. You may also want to do many repetitions and play with the tempo of your body weight exercises to make it more challenging.
No one got the splits over night and if you haven't been stretching but doing lots of strength training workouts you are just going to get more stiff. Before you stretch make sure you are nice and warm, try skipping for 5 minutes this will make your muscles nice and warm and you will get better results in your stretching session. Before you drop into the splits make sure to stretch your smallest muscles first, I like to start at my feet and work my way up, this will help prepare you for your splits. Dress in layers to stay warm and start stretching for 20 minutes 5 times a week holding your stretches for 30 seconds to 1 minute will get you the best flexibility training results.
Have you ever tried freestyling to a full 4 minute song on the pole? It is exhausting! This is were conditioning comes in. Freestyling is a great exercise since practice makes perfection but not everyone has the luxury of a pole at home. Why not add plyometric to your strength workout such as, jump squats for example. Another favorite among pole dancers is taking aerial silks classes. Unlike the pole being bolted to the floor and ceiling silks hang from the ceiling making it even more challenging! Aerial silks is great cross training for pole and increases your upper body strength, grip strength and flexibility.
The more you practice the better you will get, never rush your learning process jumping into hard tricks that may hurt you. Embrace the process and enjoy the journey!