Acro Chair Workshop
Back to School so get on the chair! Learn Acro Chair and never look at a chair the same way!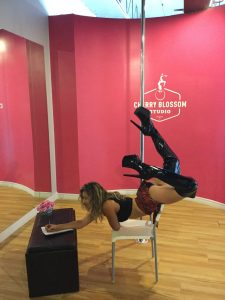 It's time for class – Cherry Blossom Style! This acro chair workshop will teach you advanced chair balances, tricks and combos. Rio will lead you through a conditioning warm-up using the chair, followed by a series of chair tricks, and a sassy routine to tie them all together.
This workshop is open to all levels although advanced poses will be taught we also have modifications.
Please bring water, leggings and a long sleeve shirt. Heels optional.
About Rio:
Rio
is a local bad ass performer also know as Maverick Mettle. She is best known for her rocking style, impressive tricks and amazing stage presence. Rio also performs on pole, aerial hoop, aerial silks, floor and chair.
Sunday, September 18 12-1:30pm
$35 +HST
Members receive 10% off, all sales final, price subject to HST.