Yoga classes are one of todays hottest workout
Get ahead of the game with the next biggest fitness craze, Aerial Yoga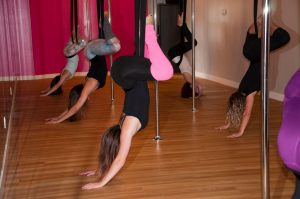 Just like yoga mat work the deep stretches and strength that are practiced in your regular hot, yin, hatha and power yoga – aerial yoga will allow you to get a deeper stretch while suspended in the air.
Yoga classes are great for preventing injury, gaining better balance and for reliving stress and clearing the mind. Aerial yoga is great if you have lower back pain and bad knees since you are never putting any pressure through your body on the mat. Decompression of the spine is one of it's main benefits. You are always suspended by an aerial hammock which is a piece of fabric with two points of rigging in ceiling creating a loop. The hammock is hung just a few feet off the ground which can hold up to 1000lbs. With the weight of the body partially or fully supported with the help of gravity, you can explore and create space in your bodies as intended in traditional Yoga practices. Without the compression of the joints and spine you can achieve proper posture and alignment through relaxation rather than effort, making each pose more balanced.
Come try an Aerial Yoga class today and rejuvenate, de-stress, build, strength and flexibility. Try a one time class or join for a full 6-week session to see best results.
Some Key Points to Remember in an Aerial Yoga Class
• Wear comfortable clothing that will allow range of movement, such as leggings and a cap sleeve or long sleeve top.
• Try to avoid extremely lose clothing to prevent the extra fabric getting in the way.
• Bring socks to wear.
• Remove all jewelry (necklace, bracelets, rings, and, earrings) before class as they can rip the fabric.
• Arrive well hydrated, and eat a light meal prior to class. Having nutrients in your system will give you the energy your body needs to work out safely.
• Observe good personal hygiene and wear deodorant in consideration for the next person using the hammock.
• Trim your finger and toenails. Long nails can snag the fabric.
• Avoid eating or drinking acidic liquids an hour prior to class.
• Do not use hand lotion before class as you may slip and not be able to grip the fabric properly.
Precautions
Even though this workout is beneficial to many, unfortunately not all people can enroll in this class and perform yoga exercises. Always consult with your doctor before starting any health routine.
• Pregnant women – The flips and inversions involved in the workout is stressful for the pregnant woman.
• Those who had a recent eye surgery – Aerial yoga can cause further harm and injury to the eyes if the eyes are not yet fully healed.
• Those who suffer from vertigo – Sudden changes in movement and the compression can trigger dizziness and vertigo attack. It is best to seek the advice of the doctor first or try a one time class at your own pace to test.
It is very important to note that you do not do this kind of workout on your own to avoid injuries. To be guided properly in performing this kind of yoga, enroll in an aerial yoga class with proper equipment and certified Aerial Yoga instructors.
Classes are open to women of all  body types, or body sizes. Classes are given in a progressive manner, from beginners to intermediate. For more information, please contact us.