Burlesque Workshop with Sassy Muffin
The Burley Basics: From Eye-Bangs to Grinds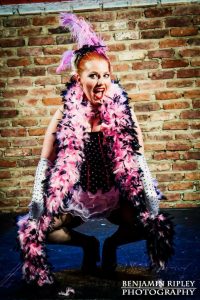 Learn the classic burlesque movements – the shimmy, the quiver, the
bumps 'n' grinds, while bringing out your inner Burlesque Bombshell
under the rough and ready tutelage of Capital Tease's Sassy Muffin.
This Burlesque workshop is designed for all bodies, and will explore themes
including body love, character development, "eye-banging", and
clothing peels — all with the objective of improving your stage
presence and connection to audiences from one to one hundred.
You will also have the opportunity to put in into practice in a fun
and sexy group choreography.
About Sassy Muffin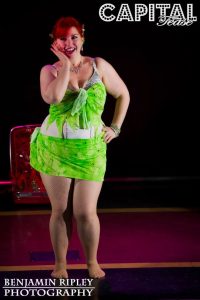 Sassy Muffin has been practicing burlesque in Ottawa since 2009, joining Capital Tease Burlesque in 2012. She's known for her campy take on classic moves, and her potty mouth.
As an instructor, Sassy is an advocate for body positivity, teaching burlesque movement for every body. She emphasizes the development of your stage presence and character driven performances.
A public servant by day, Sassy also brings her unique experiences to the stage as a witty emcee dubbed the Naughtiest Lips in the Capital.
Sunday, September 25th 12-1:30pm
Cost: $35 + HST
Register for the Burley Basics!
Members receive 10% off, all workshops are final sale.