Pole Doubles Workshop
Learn fun shapes and poses on the pole with a partner!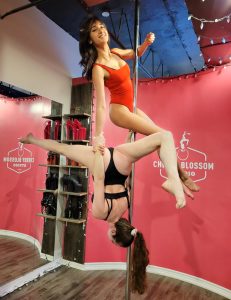 Join Bianca and Erika and have some fun with pole doubles moves on the pole. If you haven't tried doubles and have been interested to try take advantage of this fun workshop at Cherry Blossom Studio.
Grab a friend and get ready to create some beautiful shapes together! This workshop will include partner stretching and conditioning, static poses, and spins. Come have fun learning how to work the pole with a partner!  Want to come alone? No problem, we'll pair you up in class!
Open to Pole 2 students and above. Must have a strong climb and pole sit. No shoes are required
Sunday, April 2nd 4-5:30pm
Cost: $45 + HST per person
All sales are final and are subject to HST.