Back to School Burlesque Workshop
Dance and peel your way through Cherry Blossom Aerial Dance School with this fun Burlesque Workshop!
with Miss Randi Rouge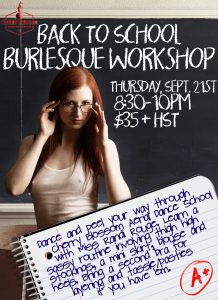 This fall bring out your inner naughty school girl with this sexy tease burlesque workshop. Learn a sassy routine involving thigh high stockings, a mini skirt, blouse and heels. Bring a second bra for layering and tassle/pasties if you have em'. None of these items are mandatory for the workshop but it will be a lot more fun to practice the peels and teases if you have a some of these items with you!
Miss Randi Rouge is one of Ottawa's hottest burlesque showgirls! Performing in Ottawa, Montreal, Toronto in festivals and shows let this fiery hip swinging fox teach you a few things about burlesque in this Burlesque Workshop that you won't want to miss!
Thursday, September 21
8:30-10:00pm
Cost: $35 + HST