Aerial Silks Conditioning Workshop
Learn conditioning, flexibility and technique in Aerial Silks Conditioning Workshop with Josiane Osborne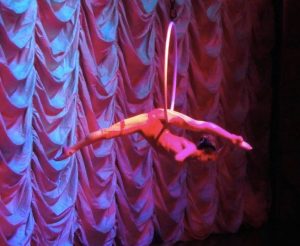 About Josiane
Josiane is a trained circus performer on aerial silks, aerial hoop, Spanish web and an Silver medalist Master World Champion synchronized swimmer. With over 10 years experience with aerial arts, she has performed around the world with cruise lines, sea world, circus shows and private events. Josiane is also a certified yoga instructor originally from Gatineau, Quebec Josiane Currently lives in Las Vegas. Join Josiane for her Aerial Silks Conditioning Workshop or contact us to book a private with Josiane.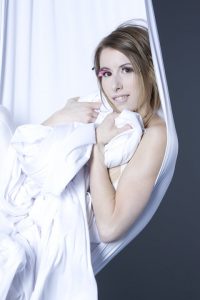 Aerial Conditioning Workshop
Aerial conditioning, we will mostly use the aerial silks but also the lyra. In this conditioning workshop, you can expect to work out your abs, arms, core, and back. The focus is to get strong to be able to achieve a performance in the air without being exhausting by the end and also teach you how to work out safely with proper stretching.
Open to all skill levels, aerial conditioning will teach you how to get strong to achieve all your aerial goals. This workshop focuses on strengthening the body and building high levels of endurance using tools of the aerialist. Pole students will also benefit in this aerial conditioning workshop as much as all aerialists who perform on the aerial silks, lyra, rope and trapeze.
More workshops with Josiane coming soon! Stay Tuned!
* Members receive 10% off, No refunds on workshops