Workshops with Maverick Mettle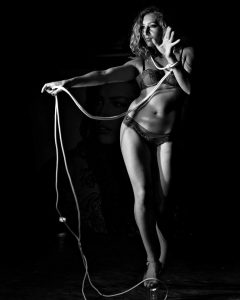 Get ready for back to school with these knotty workshops with Maverick Mettle. Looking to add some pizazz to your next performance. Learn the art of working with props with one of Canada's most skilled featured performers Maverick Mettle.
About Maverick Mettle
Maverick Mettle is a fierce performer and aerialist, best known for her extreme heels and BDSM-infused rock & roll style. She started stripping to pay for her Women's Studies degree, and soon after began incubating a profound love for pole and aerials at Cherry Blossom Studio. Maverick rocks stages across Canada with jaw-dropping performances leaving audiences gasping "Doesn't that hurt?!"
School of Hard Knocks
Get your ass to class! This heel-clacking pole routine is guaranteed to earn you an A+ in seduction. In this 2 hour workshop you will learn how to tempt and tease your audience while manipulating a ripe, juicy prop.
What to bring: heels, shorts, water bottle, and an apple for teacher 😉
* Wear your schoolgirl best for extra credit.
Saturday, September 7th at 2:30-4:00pm
$45 +HST
Knotty Tease
Who knew putting it on could be so sexy?!
Adorn yourself in ornate rope work as you melt across the floor in a captivating sensual routine. This one-of-a-kind workshop is designed to teach you a seductive rope routine, finishing in a non-restrictive harness.
Students are asked to wear tight-fitting clothing and bring a water bottle. Feel free to bring your own rope, however there will be plenty on hand.
Saturday, September 7th at 1:00-2:30pm
$45 +HST
All workshops are final sale, no switching out of one to another, no switching with friends.